Monday, November 29, 2010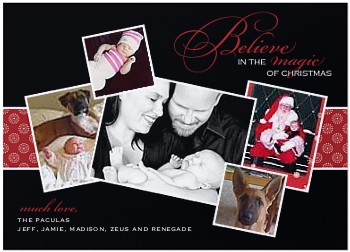 Keep Believing Christmas Card
Posted by

Jamie
at 8:33 AM
No comments:


Tuesday, November 9, 2010
Well I've managed to be so busy with Madison that I've not updated on her 2nd month! We are going for her week 10 check up tomorrow...OOPS! :)

In the last month Madison has:
filled our world with wonderful smiles

thoroughly enjoys mat time

the cutest baby noises

started to talk back to you

been growing and growing..we are in some 3mo clothes now (momma makes buttermilk I think!)

become much better as a momma's helper when running errands

started to sleep ALL night with one or two feeds (more for momma's comfort!)

visited her cousin Evie

spent lots of time with Nana and Papa and LOVES every minute of it

hung out with big brother Zeus and even napped with him

slept through every church service since birth! HAHA!

We love her smiles and cute faces, they are so animated and just light up our souls. She is definitely a drama queen in the making...but hopefully she's getting that out of her system now...for all our sanity! :)
Posted by

Jamie
at 10:47 AM
No comments:


Sunday, November 7, 2010
So our church service kind of hit home for me today. We are in a series talking about the supernatural and how it affects us. Some examples given were have you ever had an addiction you couldn't kick, a force holding you back from believing in God, a child that just always seemed to get in trouble, etc, etc, etc.

Well as service continued the saying "Idle Hands are the Devils Workshop" kept entering my mind...THAT my friends was my issue.

Back before marriage and a family I spent many a minute at the bar enjoying cocktails, friends, and sports. Well I must say that it was more than just enjoyment. It was a habit. When I had idle time it seemed there was this force that drove me to make a habit of spending sunday at the bar watching football...well it wasn't this force that was "the devil" persay. BUT this force got me to open the doors to let the devil in and push me to make bad decisions such as leaving the bar and driving home or spending more money than I needed to, etc, etc.

I always just thought it was me and thats what I did...but now I know it was me easily opening a door for the devil and allowing him to sit back and clap as I continued to make bad decisions.

Now that I have a fabulous husband and an amazing daughter I no longer have "Idle Hands" nor do I ever want to spend my time the way I did before. I am blessed that nothing stupid happened to me and I have been given the wonderful gift of love despite my repetitive stupidity.

No longer will I allow the devil in..I am closing my doors and keeping my "house" safe!
Posted by

Jamie
at 4:15 PM
1 comment: